Monday, 26. July 2010
This time the background image got changed. And at the same time I changed the size of the thumbnails, now they are 256 pixels wide.
New background and bigger thumbnails
Tuesday, 16. March 2010
Yet again it was the time for a little refreshment. This time I've changed the buttons on the top and removed the stuff which was in the bottom. The guestbook and "Games" is taken away. But instead I've made a page with webcams from around Europe
You might have noticed that there's a banner here. This was added for quite a time ago.
There will be some minor changes later. Sorry for my bad english.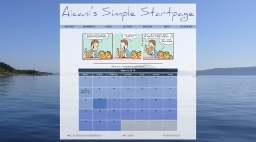 16. March 2010
---
Friday, 7. August 2009
Okey, new update again. This time it was the colours turn to get refreshed.
I've chosen to give the calendar and the bookmarks more matching colours to the background. So now it suits better together. I also gave the buttons on top and bottom new colours to match the rest.
I have also fixed the width of the calendar so that the weekdays are not of different widths. Wednesday was wider than for example friday. This was because wednesday has more letters than friday. It looked very not good.
I should have taken screenshots before I made the changes, but I forgot. Anyway, here are screenshots from after the change...
I plan to make an archive with old screenshots at some point. But not now.
| | |
| --- | --- |
| New colours on calendar | New colours on bookmarks |
---
Monday, 6. April 2009
A few updates have been done now. The biggest one are the bookmarks.
Links are now replaced with menus, this gives a cleaner look.
If you miss the old look, you can always look at the screenshot I made (below) before uploading the new style.
I've also added a line just above the calendar which shows you how many days are left of the current month. A funny little feature.
Another thing I added is a line below the headline of Polnor.net, this one shows how long it has been since Polnor.net went online.
The font of Polnor.net is also made slightly bigger.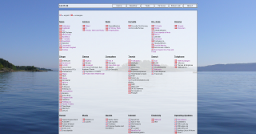 6. April 2009
---
Wednesday, 10. December 2008
So it was time for some play with the code again.
I added a new tool in the "tools" page (check it out) and I replaced the world-map with a nice calendar.
Pretty sweet actually.

It has occured to me that, when viewed in Firefox, the buttons on top is not looking good, they are out of alignment. And there is an issue with some fonts, they don't have the correct color.
All fonts should be black, but they aren't.
Since I am not a very good coder, I am not sure what to do about it. I have some ideas, but I don't bother to do anything about it at the current moment, simply because I use this as my private startpage and it looks spledid in my browser (Opera).
If, however, there are someone out there who is actually using this site as a startpage and the look is bothering you; please contact me (by e-mail) and tell me what could have been better and how to make it.
---
Monday, 6. October 2008
Today I cleaned the bookmark page, now there's no dead links! While doing that I thought about my ealier versions of the A.S.S.-site and wondered about if I had any screenshots laying around. And I have!
The first screenshot I found was from 4. april 2006 and the other from 2. october 2007. But I know that I was using the A.S.S. way before that.
Here you can see those screenshots and get an idea on how it looked back then.
UPDATE: Found another screenshot, this from 22. march 2008.
| | |
| --- | --- |
| 4. April 2006 | 2. October 2007 |
| 22. March 2008 | 7. October 2008 |
---
Sunday, 5. October 2008
The A.S.S.-site have undergone major changes lately.
I've removed calendar page (it wasn't usefull after all). Changed the layout a little with sweet transparent boxes. Testing pages were removed all together (wasn't testing that much anyway).
I've changed the buttons, now they have this nice hover effect. Weather page has returned but without any webcam attatched. There will be some more, but small, changes still. I'm for example going to filter out broken links in the bookmark page.
I've also tried to clean the source code of this site, it's not easy but I've tried.
Well, this is it for now - stay tuned for updates! ;o)
---
Okey, where shall I start? Why not with this site?
I created this site to be a startsite which my browser would go to when I start it up.
In the beginning it was very simple with just a few links, then it started to grow.
I added a "weather page" which gave me the current weather information and a webcam picture which showed me what it looked like.
Then came the "Oslo page" which displayed a webcam picture in Oslo (Norway). And then a "music page", "countdown page" and so on. Many pages I made but many I deleted because they didn't prove usefull enough for me. Today this site contains eight pages which provide me the stuff I need when I open my browser. The very first page you see when you enter is like; "Welcome" or something like that.
The "music page" is a place where it's possible to see what kind of music I like and listen to. The "calendar page" shows you (and others) what I am doing and when (in case you want to make an appoinment, this might make it easier for you). And I think I'll remove the "fun page" soon because I really don't use it. And then of course we have the big "bookmark page". This is one of the most important pages I got today, it gives me all of the bookmarks I use most often on a daily basis. Actually I don't need more than this.
Let's not forget the "testing page", this is the place I test new stuff for my site before I put it in for actual use. I need to see if the stuff works as intended first of all. So, on that page it's possible to see alot of strange and mysterious stuff happening (shit happens).
And of course it's this page, the "about page". What more is there to say? I don't know. You tell me.
So that was a little about this site. Now a little about the writer/creator (me, that is).
As you might have noticed, my name is Aicani.
I was born nearby Oslo, Norway in 1972. After the birth it was a lot of travelling all over Europe, but mainly I only got to see the highways and loadingbays, but that's another story for another time.
I've lived in many places in Norway, but for the longest I was living on the same island as Northcape (only 35 km from that rocky spot), which lasted for 15 years. In late 1997 I moved my ass to the south and in the spring of 1998 I ended up in the Oslo area. Lived here since then.

Okey, I won't write more right now. So more will come some other day.
Below you see the results of tests I've been taking. You can take the same tests (if you want) by clicking on the pictures.
Updates to come!
---